Media Kit
Second Serve Podcast started on April 27, 2020 and releases episodes every week.
To date, the podcast has:
Consistently ranked in the top 10 for tennis podcasts in the United States
An audience from 85 different countries and 1,500+ different cities
Won multiple awards at the State, Section and National levels (read more here)
The target market is:
Adults 25-105 years old who play tennis
Competitive USTA league players*
Competitive or non-competitive tournament players
Social players (those that play strictly for fun)
* the average age of an adult recreational USTA player is 50 years old
Additional statistics, facts and information can be found in our Media Kit.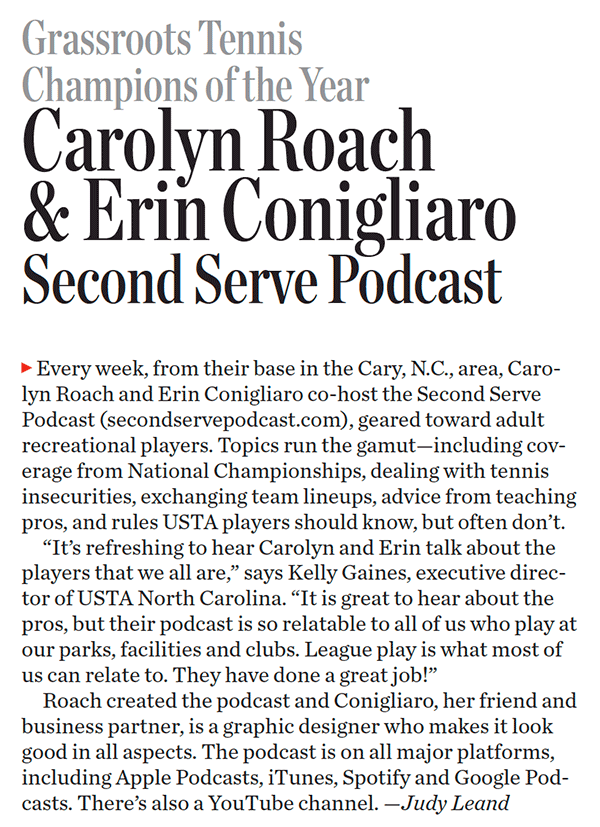 Toni Wiley of Sportsmen's Tennis & Enrichment Center is the magazine's "Person of the Year" and USTA Southern Executive Director John Callen receives RSI's inaugural "Lifetime Achievement Award," while individuals and organizations from across the country are recognized in 24 additional categories.
Racquet Sports Industry named it's 2021 Champions of Tennis Awards (see the January 2022 Racquet Sports Industry digital edition at www.tennisindustrymag.com for more on these winners):
Person of the Year: Toni Wiley, Dorchester, Mass.
Lifetime Achievement Award: John Callen, John's Creek, Ga.
Tennis Industry Service Award: Greg Lappin, Chaska, Minn.
Pro/Specialty Retailer of the Year: House of Tennis, Las Vegas, Nev.
Private/Commercial Facility of the Year: Longfellow Health Clubs, Nashua, N.H.
Municipal Tennis Facility of the Year: Indian School Park Tennis Center, Scottsdale, Ariz.
Builder/Contractor of the Year: Carla Magers, Gerald Perry Tennis Courts, Springfield, Mo.
Business Executive/Sales Representative of the Year: Mike Ballardie, Slinger Bag, Baltimore, Md.
Grassroots Tennis Champion of the Year: Second Serve Podcast (Carolyn Roach, Erin Conigliaro), Cary, N.C.
Junior Tennis Champion of the Year: Jordan Zimmerman, College Park, Md.
Wheelchair Tennis Champions of the Year: Jennifer Edmonson, Baton Rouge, La.
Community Tennis Association of the Year: QuickStart Tennis of Central Virginia, Ivy, Va.
Stringer of the Year: Roger Gough, Davis, Calif.
Public Park of the Year: Jaycee Park Tennis Courts, Cheyenne, Wyo.
High School Coach of the Year: Amy Badger, Albuquerque, N.M.
Tennis Advocate of the Year: David Lee, Gaithersburg, Md.
Park & Rec Agency of the Year: Howard County Rec and Parks, Md.
Youth Tennis Provider of the Year: Larry Newton, Omaha, Neb.'
Adaptive Tennis Champion of the Year: Jim Hamm, Marietta, Ga.
National Junior Tennis & Learning (NJTL) Chapter of the Year: Advantage Cleveland, Ohio
Adult Tennis Provider of the Year: Lake Norman Tennis Association, N.C.
Innovative Tennis Initiative/Event of the Year: USTA Tennis Champions, Orlando, Fla.
Public Tennis Facility of the Year: Lisa & Douglas Goldman Tennis Center in Golden Gate Park, San Francisco, Calif.
Professional Tennis Registry (PTR) Member of the Year: Margie Zesinger, Bradenton, Fla.
U.S. Professional Tennis Association (USPTA) Member of the Year: Ken DeHart, San Jose, Calif.
U.S. Tennis Association (USTA) Section of the Year: USTA New England
Racquet Sports Industry (formerly Tennis Industry), the largest racquet sports trade magazine in the world, has been covering the tennis business and the sport for 50 years. Available in both print and digital editions, RSI is the official publication of the Tennis Industry Association, U.S. Racquet Stringers Association and American Sports Builders Association. Visit www.tennisindustrymag.com.
Western Wake Tennis – Community Spotlight
Community Spotlight is on growing tennis at the grassroots level by Western Wake Tennis Association
Second Serve Podcast was the recipient media excellence awards for USTA-NC and USTA-Southern as well as named a Champion of Tennis by Tennis Industry Magazine.
Carolyn and Erin started this weekly podcast for adult recreational players during the early days of the pandemic. The podcasts are less than 15 minutes each and topics include: rules, league play, state championships, friendships, anything that involves tennis! It is a fun and even educational way to hear and learn about all things tennis.
Hosts Erin and Carolyn are funny, engaging and easy to listen to. Their guests feel welcomed and comfortable (and several are from our area!) They love the sport and promote it through every imaginable angle and put a light-hearted spin on tough topics.
They contribute to the game of tennis by disseminating useful, relevant and fun information about tennis!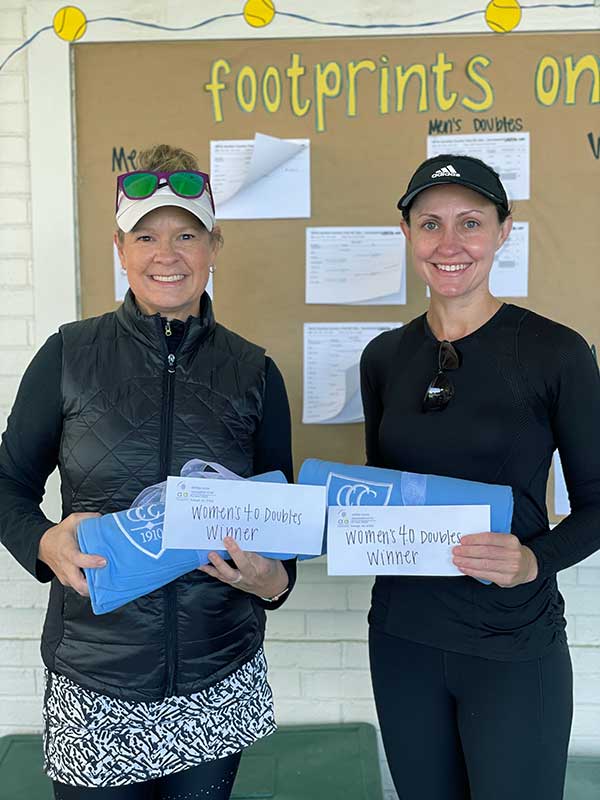 Podcast started by League Players
By Leslie Ellis/USTA North Carolina
Erin Conigliaro and Carolyn Roach found a creative way to connect the tennis community during the COVID-19 pandemic: storytelling.
The two USTA League players, who met while playing tennis at the Hasentree Club in Wake Forest, NC, teamed up to create the Second Serve podcast. Second Serve provides advice to beginning players, discusses adult recreational tennis and features interviews with special guests.
"Most of the other tennis podcasts out there are hosted by true tennis experts, who have played most of their life or are interviewing those that have," Carolyn, pictured on the right in the photo above, said. "We are just a couple of moms who have played a lot of recreational tennis at the lowest levels and have good stories to tell."